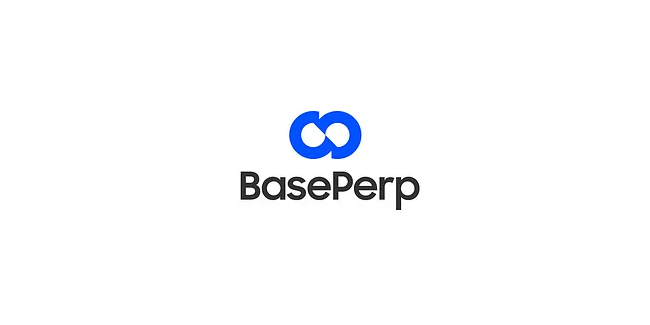 BasePerp Friendship Airdrop
Cryptocurrency enthusiasts, rejoice! BasePerp, the innovative decentralized derivative exchange, has unveiled an exciting opportunity for crypto aficionados with their Friendship Airdrop. In this comprehensive review, we will delve deep into the intricacies of the BasePerp Friendship Airdrop, exploring the registration process, claiming Mystery Boxes, adding Base Mainnet to your wallet, strategies to earn more Mystery Boxes, the rarity levels of these boxes, special provisions for non-Friend.Tech users, participation in extra tasks, and the grand vision behind BasePerp within the BASE ecosystem.
The BasePerp Friendship Airdrop is more than just a promotional event; it's a gesture of gratitude and an invitation to be a part of a growing community within the cryptocurrency world.
Baseperp
In this review, we'll uncover what makes this opportunity unique and how it can potentially be a stepping stone for those who seek to engage with the cryptocurrency market in a fun and rewarding way.
The BasePerp Friendship Airdrop is an exciting opportunity for crypto enthusiasts to participate in a rewarding event within the BASE ecosystem. By following a straightforward registration process, claiming Mystery Boxes, and engaging in extra tasks, participants can earn valuable rewards while becoming part of a vibrant crypto community.
In a landscape where blockchain technology is rapidly evolving, BasePerp and the BASE ecosystem stand as a symbol of innovation and inclusivity. Whether you're an experienced crypto user or a newcomer, the Friendship Airdrop welcomes you to be a part of a crypto journey that holds the potential for lifelong connections and financial growth.
Join BasePerp, claim your Mystery Boxes, and embrace the future of cryptocurrency together with a community that values your participation.
BasePerp Friendship Airdrop Registration
To embark on this exciting journey, you'll need to follow a structured registration process. The following steps outline the process in a simple and user-friendly manner by visiting the events page: https://quest.baseperp.com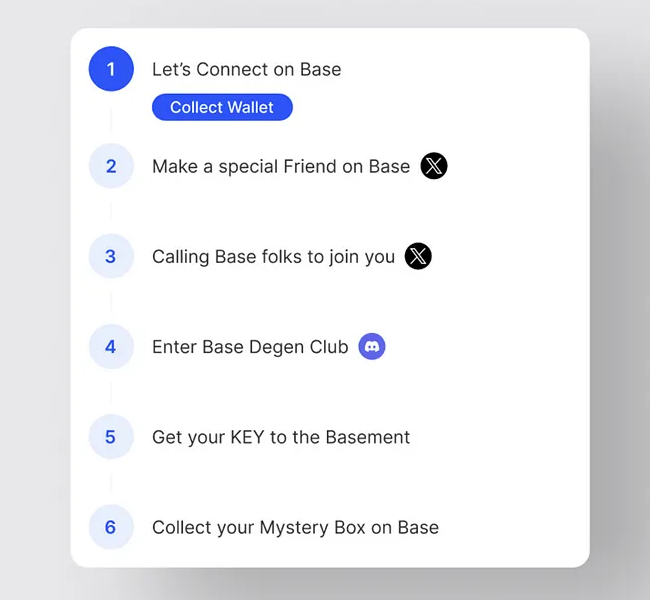 1. Connect Your Wallet and Switch to Base Mainnet: First and foremost, connect your preferred cryptocurrency wallet and switch it to Base Mainnet. This ensures that you're ready to participate in the Airdrop using the correct network.
2. Connect Your Twitter Account: Next, connect your Twitter account and give BasePerp a follow on Twitter. This step is essential for sharing your participation in the Airdrop with your Twitter followers.
3. Call Other Base Mate: Click the 'Call other Base Mate' button to send out a tweet. This tweet serves as your announcement to the crypto community, spreading the word about BasePerp.
4. Connect Your Discord Account: Join the BasePerp Discord server and verify your account within the server. Discord is an essential platform for communication within the crypto community, and by joining, you become part of a vibrant ecosystem.
5. Mint the Free NFT: Key to the Basement: Click the 'Mint' button to mint the Free NFT known as the 'Key to the Basement.' This NFT is your entry ticket to the world of BasePerp and signifies your participation in the Airdrop.
6. Claim Your Mystery Boxes: Finally, click the 'Claim' button to collect your Mystery Boxes. The number of boxes you receive will be based on your level of activity and involvement in Friend.Tech.
Claiming Mystery Boxes
The heart of the BasePerp Friendship Airdrop lies in the Mystery Boxes, and rightfully so. These boxes hold exciting surprises and potential financial value. To ensure you maximize your rewards, it's crucial to understand how to claim them effectively.
Upon completing the registration process mentioned earlier, you become eligible to claim your Mystery Boxes. The number of boxes you receive is determined by your level of activity and involvement in Friend.Tech. The more active and engaged you are, the more boxes you can claim.
It's important to note that verification within each step of the task may take several seconds to one minute to load. If you encounter a verification failure notification, double-check that you've followed the steps correctly and click the verification button again. Patience is key in this process.
Adding Base Mainnet
If you haven't added the Base Mainnet to your wallet yet, don't worry; BasePerp provides clear instructions on how to do so:
1. Visit Chainlist: Head to https://chainlist.org and connect your wallet. Once connected, search for 'Base' and click 'Add to Metamask.' This step ensures that your wallet is compatible with the Base Mainnet.
2. Use the Official Bridge of Base: Visit the official bridge of Base at https://bridge.base.org. Connect your wallet to the Ethereum Mainnet and specify the amount of ETH you want to send to the Base Mainnet. Click 'DEPOSIT ETH' to initiate the transfer.
3. Confirmation: Your deposit typically arrives within a few minutes. The Base Bridge page will notify you of a successful deposit, and you can now view your deposit in the Base account of your wallet.
4. BasePerp Friendship Airdrop: Adding Base Mainnet to your wallet is a crucial step that ensures you're ready to participate fully in the BasePerp ecosystem and access all its features.
Earning More Mystery Boxes
One of the most exciting aspects of the BasePerp Friendship Airdrop is the opportunity to earn additional Mystery Boxes through invitations. The more friends you invite to join the quest, the more Mystery Boxes you can accumulate.
After completing the tasks and claiming your boxes, you will receive a unique invitation link. Each friend who successfully completes the tasks using your link counts as a valid invitation, earning you one Mystery Box per invitation.
This system not only incentivizes you to share the BasePerp opportunity with your network but also fosters a sense of community as you and your friends embark on this crypto adventure together.
Mystery Box Rarity Levels
The Mystery Boxes within the BasePerp Friendship Airdrop are not all created equal. They come in four distinct rarity levels, each with its own unique airdrop probabilities:
– Legendary: 1%
– Rare: 10%
– Uncommon: 20%
– Common: 69%
BasePerp Friendship Airdrop
The chances of receiving each type are equal for all participants. This means that even if you have just one Mystery Box, you still have a chance to win a Legendary Box. The diversity of rarity levels adds an element of excitement and unpredictability to the Airdrop, making it an engaging experience for all participants.
Non-Friend.Tech Users
You might be wondering if you can participate in the BasePerp Friendship Airdrop even if you're not a Friend.Tech user. The answer is yes! BasePerp values its community and seeks to extend its gratitude to all supporters, regardless of their previous involvement.
If you've never used Friend.Tech before, BasePerp has a special provision for you. They will offer you one Mystery Box as a token of appreciation for your support and affection for BasePerp. This inclusivity demonstrates BasePerp's commitment to building a diverse and welcoming crypto community.
Extra Tasks
In addition to the main Airdrop tasks, BasePerp provides opportunities to earn more rewards through extra tasks. These tasks are often published on platforms like Galxe, QuestN, and Zealy. By participating in these tasks, you can earn Scores and experience, which can enhance your overall engagement and rewards within the BasePerp ecosystem.
Participating in extra tasks not only allows you to accumulate more benefits but also encourages you to explore different facets of the crypto community and expand your knowledge and involvement.
BasePerp Friendship Airdrop
To understand the significance of the BasePerp Friendship Airdrop fully, it's essential to grasp the broader context of Base and BasePerp within the crypto landscape.
Base was introduced as a secure, low-cost, builder-friendly Ethereum Layer 2 (L2) network. It possesses the necessary attributes of security, stability, and scalability required to support decentralized applications (dApps) within the crypto space. The vision for Base is to become the optimal path for mass adoption of blockchain technology.
As the native decentralized perpetual exchange within the BASE ecosystem, BasePerp plays a crucial role. It is committed to providing the best liquidity for BASE enthusiasts, offering a trading experience reminiscent of centralized exchanges (CEX), introducing practical copy trading features, and serving as a simple and stable decentralized exchange (DEX) for Base Friends.
Social
To stay up to date with the latest news and developments about BasePerp and the upcoming airdrop, make sure to follow and subscribe.
Conclusion
In Conclusion, the BasePerp Friendship Airdrop is more than just an airdrop; it's a gateway to a thriving crypto community. Through engaging tasks, the potential for financial rewards, and the inclusivity of non-Friend.Tech users, BasePerp extends its hand to crypto enthusiasts worldwide.
As you embark on this crypto adventure, remember that BasePerp and the broader BASE ecosystem are setting the stage for a new era of blockchain adoption. The opportunity to be part of this ecosystem and the rewards it offers make the Friendship Airdrop a valuable endeavor.
Let's not see this as a conclusion but as the commencement of a lifelong friendship within the crypto community, one that will endure for eternity.