MEXC Launchpad
The first session of the MEXC Launchpad has begun! Exclusively for MX holders, this is a one-of-a-kind opportunity for the future. CropBytes is the project for this session (CBX).
MEXC Exchange offers consumers all around the globe a low-cost way to participate in project tokens early on. MEXC Launchpad is only available to MX Holders. At the same time, CBX Token is also listed with ByBit.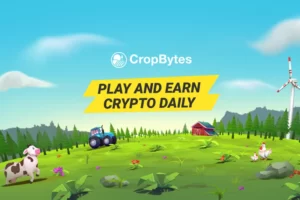 About CropBytes
CropBytes grew its crypto gamer community. CropBytes farming is based on sustainable economics like the real world. Gamers love the farming and strategic business challenges to play and grow their crypto farm. In this metaverse, gamers own farms, grow crops, raise animals and produce goods to grow their crypto farm. CBX utility token is an integral part of the growing CropBytes metaverse and is linked to all in-game activities.
Total supply: 500,000,000 CBX
Start time: 2021-11-04 21:30:00
CropBytes develop a community for gaming. CropBytes farming is based on real-world sustainable economics. Gamers like the farming and strategic business difficulties that come with playing and growing their crypto farm. In this metaverse, gamers own farms, grow crops, nurture animals, and manufacture things in order to expand their crypto farm. The CropBytes utility coin (CBX) is an essential component of the expanding CropBytes metaverse and is tied to all in-game actions.
Highlights of the Project
The game's key innovation is the Balanced Economy, which distinguishes CropBytes from all other crypto games on the market today. There is a fair mix of Fungible Tokens (FT) and Non Fungible Tokens (NFT), whereas most other games nowadays are exclusively interested in NFTs. This overcomes many concerns related to liquidity, high-frequency trading, and low friction trades, eventually increasing the game's market cap.
CropBytes game community has been operating for three years and is one of the few established Crypto games accessible on Playstore, Appstore, and Web.
Note: During the "warming up" session, the regulations for participation in the MEXC Launchpad activity will be explained. MEXC will take photos at random times throughout the holding period, and users can raise their MX holdings to obtain more lots. Simultaneously, if a user's MX holdings are reduced, the number of prospective incentives may be reduced.
Project Links
MEXC Lanchpad Lucky Draw
A Lucky Draw system will be used in this session of the MEXC Launchpad. MEXC will determine the average daily MX position by counting the MX tokens in your exchange account (both locked and accessible). The following are the particular times and details:
Time of the lucky draw: 16:00 on November 4th, 2021 – 02:00 on November 5th, 2021 (UTC).
Announcement of the lucky draw results: November 5, 2021, 4:00 p.m. (UTC)
Asset Deduction Time: November 5th, 2021, 8:00 a.m. (UTC)
The activity's token price and quantity :

Token activity volume: 3,000,000 CBX
The selling price is 0.10 USDT.

The average MX token holding quantity of the user is utilized to calculate how many tickets the user may obtain.
Terms & Conditions
To ensure the fairness of all participants, the relevant MX tokens in the user's account will be frozen once the user has clicked and consented to participate in the drawing. The MX that has been frozen throughout the event duration will not be able to be withdrawn or exchanged. Please take part at your own risk.
To participate in this event, users must complete KYC.
MEXC maintains the right, at our sole discretion, to interpret this event.
Special Reward: 500 users that participated in this Launchpad session will be chosen at random to receive a 10 USDT Futures Bonus; the awards will be airdropped to the respective winners within 7 working days of the event's conclusion.
Risk
Cryptocurrency investment has a high level of market risk. Please proceed with caution while making investments. MEXC Global will make every attempt to choose high-quality coins, but will not be held liable for any losses incurred as a result of your investment. MEXC adheres to the idea of genuine, transparent, and fair trade, with no harmful purpose, as a digital asset trading platform that respects the community. We are committed to providing users with a safer, more efficient, and more dependable solution for exchanging digital assets.