De.Fi

 Airdrop is an exhilarating sequel that builds upon the success of its predecessor. With transparency, inclusivity, and a strong sense of community, this airdrop sets a remarkable example in the world of cryptocurrency.

De.Fi
De.Fi, short for Decentralized Finance, is on a mission to make the world of DeFi accessible to everyone. The De.Fi platform aims to empower users to participate in the Web3 financial revolution with confidence, eliminating the fear of losing their investments. It aspires to become the Robinhood of the DeFi world, transcending the limitations of nationalized financial systems and legacy technologies that Web2 platforms adhere to.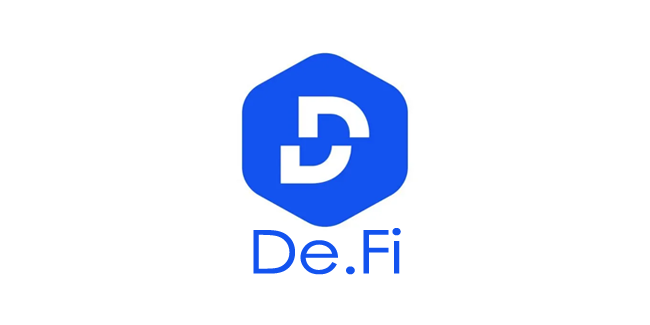 💎 De.Fi Community
De.Fi has built a robust and diverse community of DeFi enthusiasts. This community includes professional investors, seasoned traders, experienced DeFi connoisseurs, large-scale investors ("whales"), risk-takers (degenerates or "degens"), and newcomers looking to explore the DeFi space. The community has grown significantly since the platform's launch and actively engages with various elements of the De.Fi ecosystem.
🗝️ Key Features of De.Fi
Dashboard: De.Fi offers a user-friendly, security-oriented dashboard that allows users to manage their assets while staying informed about associated risks. This dashboard serves as the central hub for monitoring DeFi activities.
Security Toolkit: De.Fi equips users with a comprehensive set of tools designed to maximize control over their safety. The toolkit includes features like the Shield functionality, Smart Contract Scanner, Impermanent Loss Calculator, and more, with ongoing development to enhance security.
Audits: De.Fi takes security seriously, conducting its own audits and making all audit reports from various auditors accessible through its Audit Database. Additionally, the platform maintains a detailed record of protocol hacks and exploits on the supported blockchain networks via its Rekt Database.
🔗 Getting Started with De.Fi 2.0 Ecosystem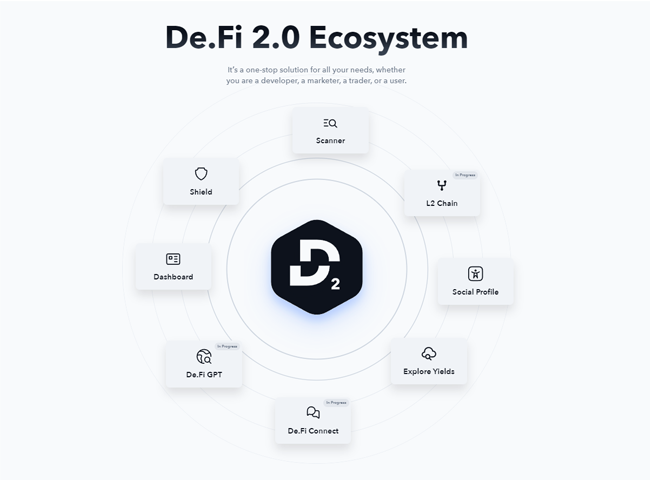 To start your De.Fi journey, follow these three steps
Step 1 – Connect Your Wallet
Users can connect their wallets through the De.Fi app, supporting various browser wallets on multiple blockchains.
Alternatively, users can add and track multiple wallets through the address book, creating unique wallet bundles for convenient access.
Step 2 – Keep Track of Your Balances
De.Fi's Dashboard provides an overview of token holdings, NFTs, provided liquidity, and funds across numerous supported blockchains.
The 'Investment' section in the sidebar offers detailed insights into wallet balances, deposited balances, and lent balances across various DeFi protocols.
Step 3 – Stay Safe
De.Fi's Security Toolkit includes the Shield page for scanning wallet addresses for potential threats and the Smart Contract Scanner for ensuring the safety of unaudited contracts.
Users are encouraged to check De.Fi's Audit Database to verify the security of DeFi projects and consult the Rekt Database to learn about any past exploits or vulnerabilities.
💪 De.Fi Dashboard
De.Fi's dashboard serves as the heart of its ecosystem, offering efficient cross-chain asset management alongside safety infrastructure to keep users informed about associated risks. It features various tools, including:
Address Book: Allows users to switch between tracking multiple wallets effortlessly, adding new wallets, and managing existing ones.
Wallet Balances: Offers a quick overview of token holdings across supported blockchains.
Deposited Balances: Provides detailed insights into balances related to liquidity deposits and staking rewards, encompassing DeFi protocols and native staking options.
Lent Balances: Offers comprehensive information on lending and borrowing activities, including APRs and incentive rewards.
NFT Portfolio: Enables users to explore and monitor NFTs across different blockchain networks, providing valuable information on marketplace values, recent sales, floor prices, and collection details.
Exploring New Opportunities: Assists users in discovering DeFi pools, vaults, lending markets, and other enticing opportunities for their assets.
🎁 De.Fi Airdrop
The De.Fi Airdrop isn't just about free tokens; it's about celebrating the thriving De.Fi ecosystem and its vibrant community.
The De.Fi Airdrop is creating ripples of excitement in the cryptocurrency world, and in this comprehensive review, we will delve into the extraordinary dimensions of this thrilling event. With a positive bias, we aim to shed light on the exhilarating aspects of the De.Fi Airdrop.
🎯 FAQ
1. What is the De.Fi Airdrop?
The De.Fi Airdrop is a grand sequel to the original De.Fi Airdrop. It's a strategic maneuver by the De.Fi platform to generously distributes free tokens to its supportive community members, aiming to foster a stronger and more engaged ecosystem.
2. How to Participate?
Participating in the De.Fi Airdrop is a breeze. The simplicity of the participation process ensures that users from all backgrounds can get involved in this exciting event, promoting inclusivity and enthusiasm within the De.Fi community.
3. How to become De.Fi Airdrop Eligibility?
The eligibility criteria for the De.Fi Airdrop are thoughtfully designed to ensure fairness and widespread involvement. Understanding these requirements is crucial for potential participants who want to join the celebration.
4. What about Transparency and Trustworthiness?
Transparency has always been the hallmark of the De.Fi project. The trustworthiness of this airdrop is no exception, with meticulous planning and execution to guarantee a credible and reliable experience for all participants.
5. What is De.Fi Airdrop Timeline?
Timing is everything in the world of airdrops and the De.Fi Airdrop timeline is a testament to the project's commitment to delivering an exceptional experience. From announcement to conclusion, we explore the key milestones.
6. How to Claim Your Airdrop Tokens?
The thrill of claiming airdrop tokens is a pivotal moment for participants. Our step-by-step guide ensures that the process is smooth and accessible for all, enabling users to reap the benefits of the De.Fi Airdrop with ease.
7. What is Airdrop Impact on De.Fi ?
A successful airdrop can be transformational for a cryptocurrency project, and the De.Fi Airdrop is no exception. We examine how this remarkable event has influenced the growth, development, and overall impact of the De.Fi platform.
🌐 Social
To stay up to date with the latest news and developments about Over Protocol and the upcoming airdrop, make sure to follow and subscribe.
💡  Conclusion
De.Fi is on a mission to democratize DeFi and provide a comprehensive ecosystem for users to explore, manage, and secure their assets in the Web3 financial landscape. With its community, security features, and user-friendly dashboard, it's well-positioned to play a significant role in the evolving DeFi space. Don't miss your chance to be a part of this remarkable journey.